DeepMediaScan is a powerful tool of Treasured to recover lost media from a card or a disk.
In situations where there is no corrupt file to repair, for example after formatting a card or accidentally deleting the clips, you cannot use Treasured directly, but with DeepMediaScan recover the lost media and then use Treasured and repair kits on it.
DeepMediaScan starts by reading the damaged disk, then detects video, and finally extracts the corresponding raw data: Your lost footage has materialized again, and now only needs to be repaired.
DeepMediaScan is specialized in audio and video recovery. Unlike data recovery tools or services that try to recover files by detecting container data, DeepMediaScan recovers media directly.
Indeed, what matters is the content, audio and video, not the container. Container can be re-built later through reindexing by a repair kit.
For video and audio, this approach is superior to generic data recovery. And since Treasured main strength is media detection, it is not surprising that DeepMediaScan recovers more footage from a damaged disk than generic tools.
Recommended reading: Where is my footage? (duration: 20 minutes)
Generating the Disk Map
The first step is to scan your disk or your card and map all existing media (video or audio).
1. Open damaged disk with Treasured
Scan Disk option of DeepMediaScan menu displays a list of disks currently connected to the computer.
Choose the disk you want to recover footage from.
Network disks are not allowed.
Besides disks, DeepMediaScan also accepts files with .img or .dmg prefix. Such files are disk images created by reading a damaged disk.
You may be prompted to enter an

administrator password

. This is necessary to allow Treasured to read directly raw data on disks. Treasured doesn't make any change to your system.

2. Choose slice size
We recommend to use default size first.
If map definition is not good enough, you can retry later with a smaller size.
Optionally, you can...
indicate a profile (like XDCAM EX), that Treasured uses to display time resolution of the map (below, 68 seconds per image)
indicate a Good File. This can increase the chances of preview the media.
request to stop after each slice. This should be done if previous attempts have failed to preview the media.
The first time, we recommend to leave default settings unchanged and push Start.

3. Scanning
During disk scan, the same process will repeat several times:
Read a new slice from the disk
Analyze the contents of the slice, determine type of media detected and show a preview
Aggregate this information to the map

And finally once all the slices are processed, the Disk Map will be displayed!
You can leave the computer unattended during the entire operation.
You can stop the scan after a few slices if you have already found all the footage you need to recover. It's possible to complete scanning later if needed.
In case of problem during scan (crash, shut down, ...) you can resume the process from where it stopped.
Working with Clips
4. Disk Map
If everything went well, the Disk Map is now displayed in your DeepMediaScan window.
It is made of 8 thumbnails for each slice of data analyzed. If you have scanned a 15 GB card in 13 slices, you should have 104 thumbnails.
Each thumbnail represent a certain amount of data of the disk. In the example above, each image represents around 68 seconds of XDCAM EX media.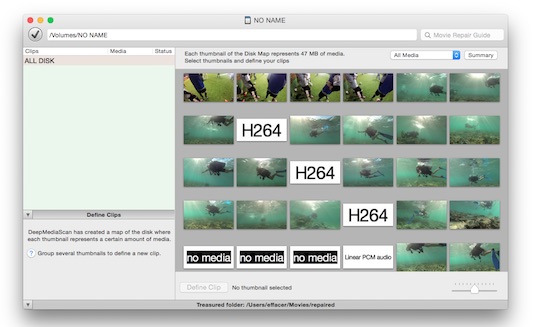 Remember: Thumbnails of disk map correspond to a fixed amount data, not to a clip or to a file.
If Treasured has been able to preview the media, the thumbnails represents the contents of the data. Otherwise, it only indicates the media type.
Your Disk Map is persistent: you can quit Treasured and come back later by double-clicking on the disk entry in the History pane, or selecting the disk in File > Open Recent
You can filter the thumbnails by media type
Your Disk Map corresponds to the first item of the Clips table, labelled either "ALL DISK" or "PARTIALLY SCAN OF DISK"
5. Summary
From your Disk Map, a "Summary" button gives you access to some statistics about the content of the disk.
If scan was stopped before end of disk, there is a clickable option to continue.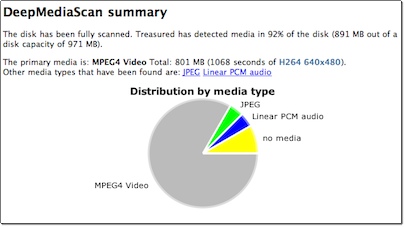 6. Define and extract clips
Your disk probably contains several video clips. Looking at the Disk Map, you can identify them:
If you "read the map" you will see sequences of thumbnails pertaining to a clip, followed by more sequences.
The Disk Map allows to define the clips that you want to recover. This flexible approach is very useful when your have a huge hard disk but you only want to recover a part of it. Or when you don't have enough disk space to recover everything in one shot.
Select a sequence of thumbnails
Click on "Define" button
A new clip is created and its extraction starts
Once extraction ends, the raw data of the clip is available. You can configure your repair, and later repair the clip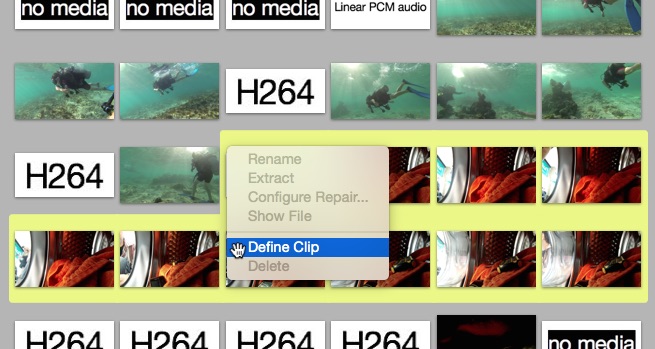 A clip can also be created by right-clicking on the selection in the map to display the contextual menu.
You can...
Extract clips: The clip file is created in your repair folder
Rename clips: The new name is also be used for the file created when the clip is extracted
Show file in Finder
Delete clips: Deletes the clip from the table (but doesn't delete the clip file)
Specify a profile: to estimate the duration of the clip
Configure repair: Display a price quote to repair the selected clips and send the request
The typical lifecycle of a clip is:
Clip is first defined (at this stage it doesn't exist as a file), then extracted (it becomes a file in your repair folder), optionally renamed, then a repair request is sent using "Configure Repair" button, and finally the clips is repaired (it becomes a playable movie).
7. Configure Repair and send a Repair Request
Select one or several clips, and click on "Configure Repair"

Treasured runs a diagnostics on one of the extracted clips, and then proposes several options and shows the estimated repair quote.
Do "Continue" and fill the request form.
Aero Quartet will examine your request and contact you. In most cases, the repair is possible and you will receive a Repair Kit, a program that will transform your clip files into playable movies.