Treasured is a free diagnostics tool that helps deliver an effortless repair through Movie Repair Service.
The main features are: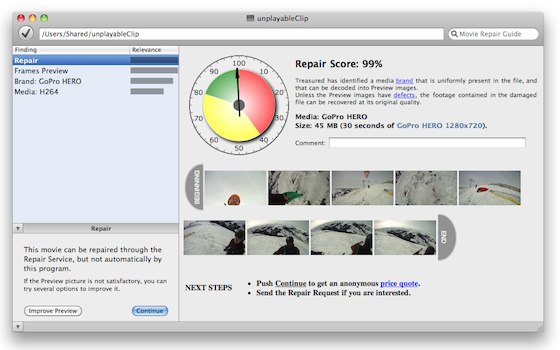 Detect audio and video media in damaged files and volumes
Detect the presence of audio and video media
In version 3, the types of media that are detected are:

Recently added in version 3.3
Read damaged disks to extract video media: DeepMediaScan
It creates a map of the damaged disk with preview pictures, allowing to locate the clips that you want to repair and extract them from the disk.
Detect most popular cameras and applications:
Hundreds of supported models; definitions database updated every few months.
Frames Preview (first it has to detect media!)
For MPEG4, H264, a good file encoded with the same settings can be necessary to preview the movie. The good file is used to configure the data extracted from the bad one into a good image.
For popular cameras, and for all the formats listed above, except audio files, a preview is provided automatically. In some cases, a QuickTime codec is required in order to decode the preview image.
Provide a Repair Score and Diagnostics
A graphical way to measure the chances that the file can be repaired, the Repair Score between 0 and 100% is based on experience accumulated since 2007. A diagnostics explains what Treasured has found and what the expectations of repair are.
Diagnostics results are stored in the History table, where you can browse results from all files tested by Treasured.
Provide a duration estimate
Through a simple Time calculator, it is possible to predict the duration of the footage in a damaged file.
Detect the presence of container structures
QuickTime (mov, mp4) and AVI container structures are searched for and analyzed.
This is important as some movies are almost intact and can be repaired with a simple Container Structure Correction.
Detect file attributes
The presence of a resource fork, of creator and type codes can be important for a repair.
Detect Density
A quick way to check that a corrupt file still contains the media data.
Assist in certain repair tasks
Sometimes, the Repair Technician will need your help to develop the repair technique. Integrated utilities make it easy:
Educate about Movie Repair
An extensive Movie Repair Guide, with dozens of articles, explains all you need to know about formats, quality, expectations, techniques, and repair flow.