The files containing the footage to repair can be hidden deep in the files structure of the recording medium.
It is important to Locate the files and to do a copy to a hard disk to secure the data.
For each type of media, the locations to visit are different:
Anatomy of a BPAV folder used by XDCAM EX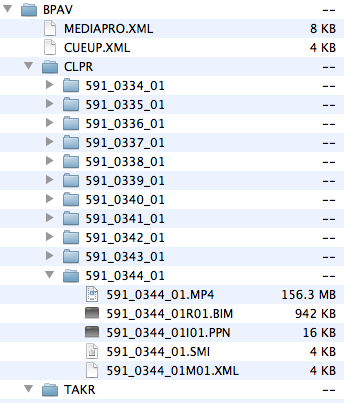 MEDIAPRO.XML contains information about system (camera type, card s/n) and contents. Inside contents, there is one "Material" entry for each clip. Each entry describes the clip (format, aspect ratio, duration) and links to its files: SMI, MP4, BIM, PPN , SMI
CUEUP.XML contains only 0xFF filler bytes.
For each clip:
.MP4 files contain the footage. But this is not standard MP4 files, and QuickTime Player cannot read them. Does Sony mean inscrutable in Japanese?
.XML file contains information about clip, but no media.
.BIM, .PPN and .SMI files contain nothing really important. Actually, without those files, all works fine. Sony XDCAM EX Clip Browser will regenerate identical .BIM, .PPN and .SMI files if you provide a pair of .MP4 and .XML files.