Photo Booth is an application that comes with Mac OS X 10.5 and higher.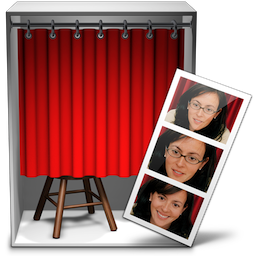 Usage
It is often used to record personal videos, like entries of a video log.It is a recreational application, not very robust: To do serious recording, it is better to use QuickTime Video Recording or iMovie or dedicated third-party applications. It is recommended to avoid using other applications during recording, as they can steal computing bandwidth and video quality can degrade.
Formats
On Mac computer with integrated iSight camera, it takes by default video and audio from it. Otherwise, it takes video and audio from any capable device attached to the computer, for example a
DV
camera connected through Firewire.
Mac OS X Version
Dimensions
Audio
10.5 Leopard
640 x 480
AAC stereo 44100Hz
10.6 Snow Leopard
640 x 480
AAC stereo 44100Hz
10.7 Lion
720 x 480 or 1080 x 720
AAC stereo 48000Hz
10.8 Mountain Lion
1080 x 720
AAC stereo 48000Hz
Fancy dimensions as 640 x 426, 800 x 533 and 1080 x 533 also found due to hardware limitations
Failure modes
The causes of failure reported by
Photo Booth users
with damaged files are:
Stop button did not stop the recording
Computer ran out of battery before stop was pressed
Exited out without saving movie (Photo Booth stopped without clicking the stop button, just quitted)
Shut lid while software was running
Operating system crashed and had to restart the computer
Computer was accidentally closed before recording was paused
User didn't hit stop before shutting down the computer. The file did not get properly finished
Computer put to sleep without stopping the movie
Accidentally clicked another video while recording, canceling the one in progress
How to repair a corrupt Photo Booth movie
When a Photo Booth recording is interrupted before completion (for a number of reasons, like
battery
failure or lack of disk space), the resulting file is unplayable.
In most cases, you can recover the movie following a few easy steps:
Find the damaged file in the

~/Pictures/Photo Booth

folder. This is usually the most recent file, and the one that you cannot open
Check the size of the file to evaluate the duration of the recorded clip: Sometimes Photo Booth crashes or stops recording well before you notice it, and the damaged movie file contains only the first seconds or minutes of the "show". This can be verified by estimating the duration with the Time Calculator
Use Treasured to preview the damaged file
Send a Repair Request through Treasured if you are interested in recovering the lost video