Vendor: Sony
Models: Sony FDR-AX100
Compatible: Sony FDR-AXP35, Sony FDR-AX1
Status: Routinely repaired.
Sony released on January 2014 their first consumer UHD Camcorder. The AX100 is able to capture video at 3840 x 2160 resolution at 30p. It captures video using 14MP but resizes the image to 8MP.
The highest quality video output uses XAVC-S format based on MPEG-4 AVC/H.264 compression. Audio is recorded in Linear PCM format. Typical data rates are 60 Mbit/s in this mode (100 Mbit/s since firmware version 3.00). SDXC memory cards class 10 U3 are required for XAVC-S 100 Mbit/s recording.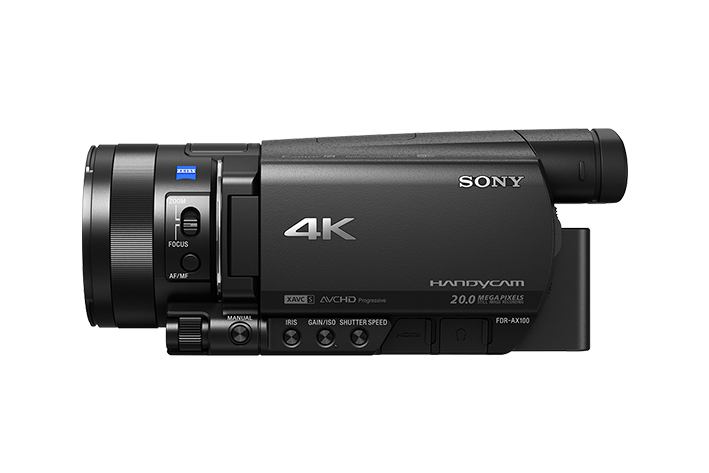 source: Sony
In March 2015, Sony released the FDR-AXP35 a smaller, lighter weight UHD camcorder with many of the same features as the AX100. It comes with a 10x lens and despite its reduced size is including a LCD screen (3.0" 0.921 MP).
Finally the Sony FDR-AX1 completes the prosumer portfolio with the evolution of the HDR-AX2000 using also the XAVC-S encoding with a maximum bit rate of 150Mbps at 60p or 100Mbps for 30p or 24p.
Failure modes:
The causes of failure reported by Sony FDR-AX100 users needing to repair files are:
Recording ended but SD card was removed before file could finish writing
Camera lost power at the end of the take
Camera lacked response and froze up being switched off/on for hard reset
Battery ran out and camera shut down without properly terminating the recording
Battery was removed before stopping recording and corrupted the file
Repairability:
The damaged files cannot be opened because recording did terminate abruptly: While the media (video and audio) is present and not corrupt, the index and header of the movie indicating what the data means, is not present.
Repair consists in reindexing the movie.
PRICING
Damaged files from Sony FDR-AX100 cameras are detected as "DSLR", and as such have an affordable pricing.
See Pricing Chart.