Unsupported Browser
This page probably won't work great in Internet Explorer. We generally only support the recent versions of major browsers like Chrome, Firefox, Safari and Edge.
This page was written a few years ago
Some information needs to be updated, we will do it soon.
Please accept our apologies for not having up-to-date information about this topic.
Nevertheless, we keep offering repair services for this type of damaged footage — with same level of quality as ever — and we will continue to do so in the future.
Feel free to tell us about the content you would like to see in the revised page, using the feedback widget at the end of the page.
What is Cineform RAW?
CineForm RAW is an intermediate codec used in film and television workflows.
It is used mainly in Silicon Imaging workflows: SI-2K camera records direct to disk in CineForm RAW format.
The footage is found inside QuickTime .mov or AVI containers. SI-2K cameras record file with CFHD codec fourcc at 2048x1152 pixels.

In 2011, CineForm was acquired by GoPro, a move aimed at leveraging the wavelet encoding technology in the fields of multi-view video (stereo and 360 degrees) where GoPro was heavily investing.
The codec has since seen little real-world use, and has been open sourced in 2017.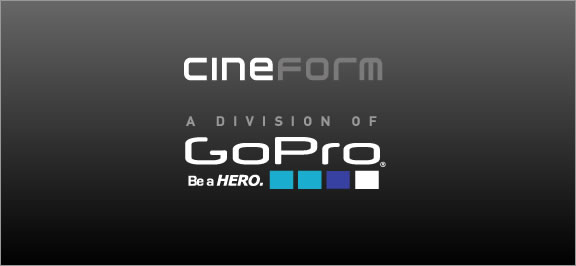 Detection
Treasured is capable of detecting and previewing CineForm RAW in damaged files or disks.
Repairability
CineForm RAW media is repaired without major problem.
A sample of a good file is recommended.
How to repair a corrupt CineForm RAW clip?
The easiest way is certainly to ask our Treasured Repair Service to do it for you.
But for those who can program, here you have a few tips:

Each CineForm RAW frame starts with a similar pattern:

00 18 00 00 00 01 00 09 00 02 00 04 00 02 97 EC -- after 4 bytes, 00 01 00 09 00 02 00 04,
00 02 4A 50 00 02 68 F0 00 02 51 CC 00 0A 00 00 -- then 4 times a length like 00 02 97 EC
00 0B 00 01 00 0C 00 04 00 47 00 67 00 54 00 02
00 0D 00 03 00 0E 00 0A 00 0F 00 02 00 10 00 03
00 14 04 00 00 15 02 40 FF BB 00 02 00 46 00 0A
FF AB 02 40 FF B1 38 04 FF B0 00 05 FF AF 01 A4
FF AD 20 00 BF FE 00 4F 47 55 49 44 10 00 00 47 -- GUID
CA 50 91 08 D3 05 3B 40 81 F5 CE 8B 27 7D E4 48
50 52 4E 54 04 00 00 48 FF FF FF FF 44 41 54 45 -- PRNT, DATE