Unsupported Browser
This page probably won't work great in Internet Explorer. We generally only support the recent versions of major browsers like Chrome, Firefox, Safari and Edge.
Keep Calm and Carry On
If you're reading this, that means you have lost the content of your SD card, CFast card or SSD drive, and now you're trying to get it back. We know it's a really stressful situation so, our first advise would be to ask you to keep calm, take a deep breath, and follow the steps here related to achieve success in that task.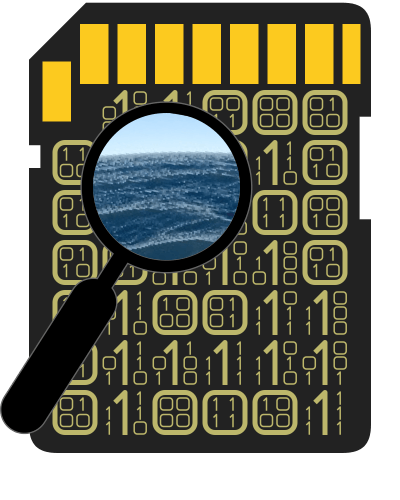 What is DeepMediaScan?
DeepMediaScan is a scan-and-extract tool of Treasured to recover lost media from a card or a disk.
In situations where there is no file to repair — for example after formatting a card or accidentally deleting the clips — you cannot use Treasured directly.
Instead, you will first scan and extract lost footage with DeepMediaScan. Then, you will recover it using a Repair Kit.
How does it work?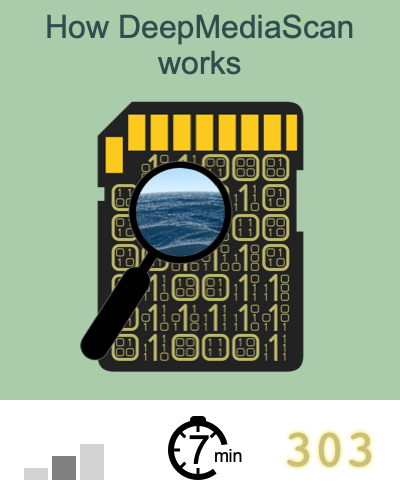 DeepMediaScan starts by reading the damaged disk, then detects video, and finally extracts the corresponding raw data.
You can run a demo in our Video Repair Academy using the DeepMediaSan lesson.
With this process your lost footage will be materialized again, and only needs to be repaired!
Preparation and Set-Up
There are several considerations to take into account before you can get access again to your clips using DeepMediaScan. Let's take a look.
Preserve the card
First of all, the less you use the card, the higher the chances to recover everything, so please quarantine the card and do not use it further until all media is repaired.
In case the camera or the card needs to be returned to a rental house, or there's any other reason that would prevent its physical access, creating a card image will be the first step.
Do not forget about the card reader, connection cords, dongles, or any other device you might need to connect the card to your computer.
Creating a card image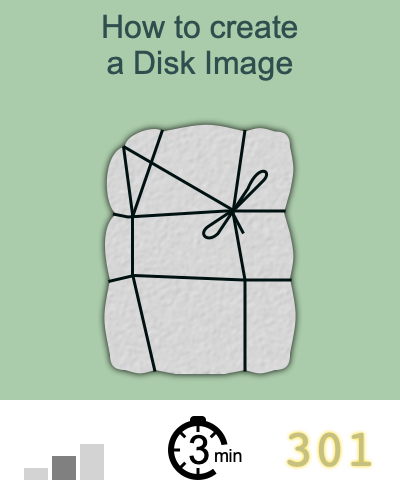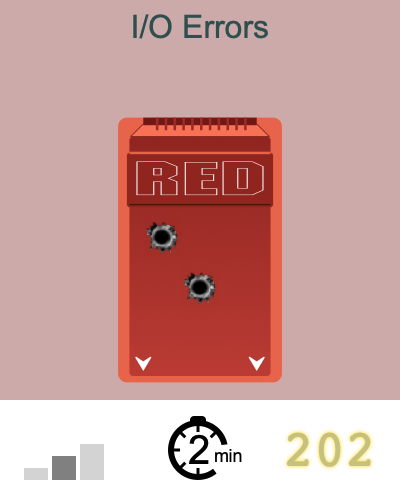 In those occasions when card's health is compromised, likely to degrade, or can become unreadable, it is mandatory to create a copy of its content. There are different ways to create a card image, but we need one that can avoid any possible I/O errors, and that guarantees that the image will be an exact copy of the physical card's content.
Several tools can be used to create the card image.
Contact us and we will guide you through the process.
Disk space
For DeepMediaScan, you will need at least twice the amount of free space as the card capacity. That's mandatory in order to have enough room to extract the media and then repair it.
You can use external drives in case your internal one does not have enough space, but make sure it is a fast drive — network drives (NAS) are not allowed — and that it is connected before starting the process. In case of using a Mac computer, the drive must be macOS-formatted (HFS or APFS).
PC users can use any formatted drive as long as it gets recognized by the system and its content can be accessed.
Try DeepMediaScan using Treasured!
Our service offers:
FREE diagnostics and preview with Treasured
FREE sample of repaired video
Try before you buy with a FREE trial of your Repair Kit
Enjoy FREE customer support by speaking directly with our trained experts
Invaluable expertise, dedication and second to none customer service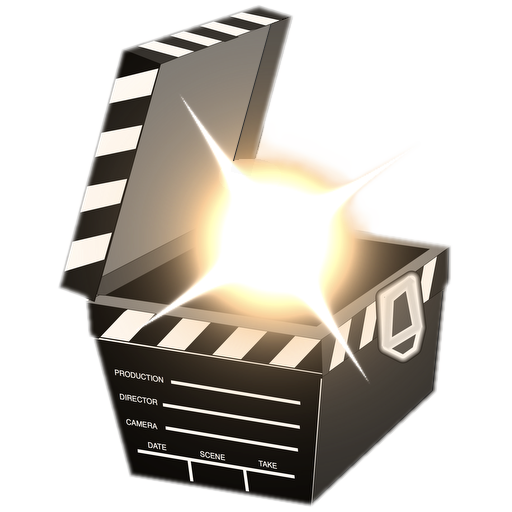 Treasured
Video Repair — online
Mac, Windows, Linux
Creating the Disk Map
The next step is to scan your disk or your card and map all existing media (video or audio).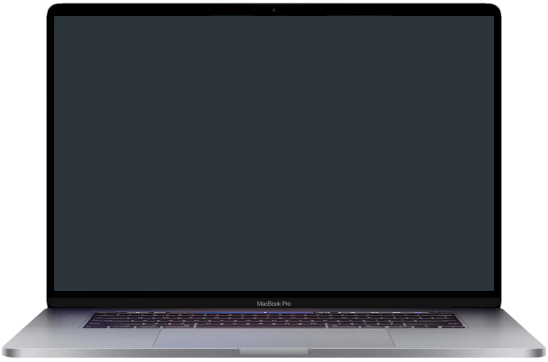 I'm on Mac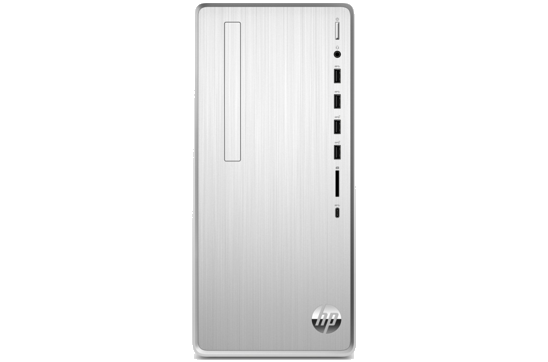 Scanning on a Mac
Open damaged disk with Treasured
Scan Disk option of DeepMediaScan menu displays a list of disks currently connected to the computer. Choose the disk or card you want to recover footage from.
Network disks are not allowed
Besides disks, DeepMediaScan also accepts files with .img or .dmg prefix.
Such files are disk images created by copying the raw data on the disk, sector by sector
You may be prompted to enter an administrator password.
This is necessary to allow Treasured to read directly raw data on disks.
Treasured doesn't make any change to your system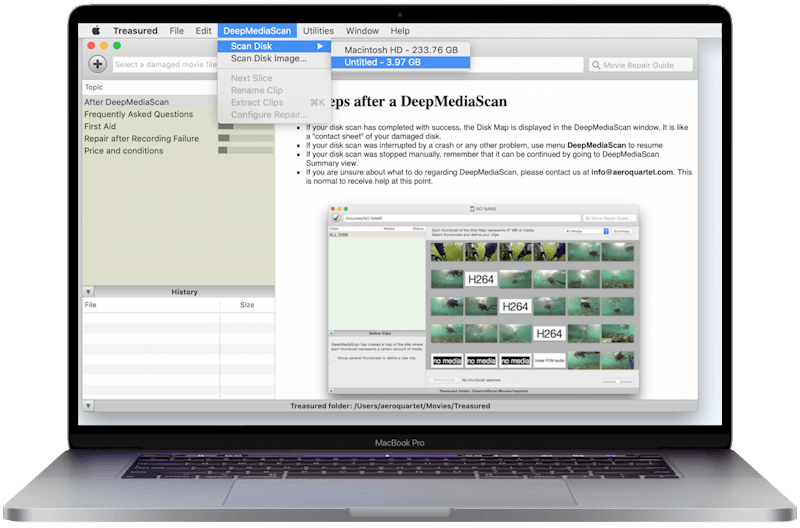 Choose slice size
We recommend to use default size first. If map definition is not good enough, you can retry later with a smaller size.
Optionally, you can...
Indicate a profile (like H264 1920x1080 HQ), that Treasured uses to display time resolution of the map (below, 4 seconds per image)
Indicate a Good File. This can increase the chances of preview the media
Request to stop after each slice, to let you indicate a good file manually. Only if previous attempts have failed to preview the media
The first time, we recommend to leave default settings unchanged and push Start.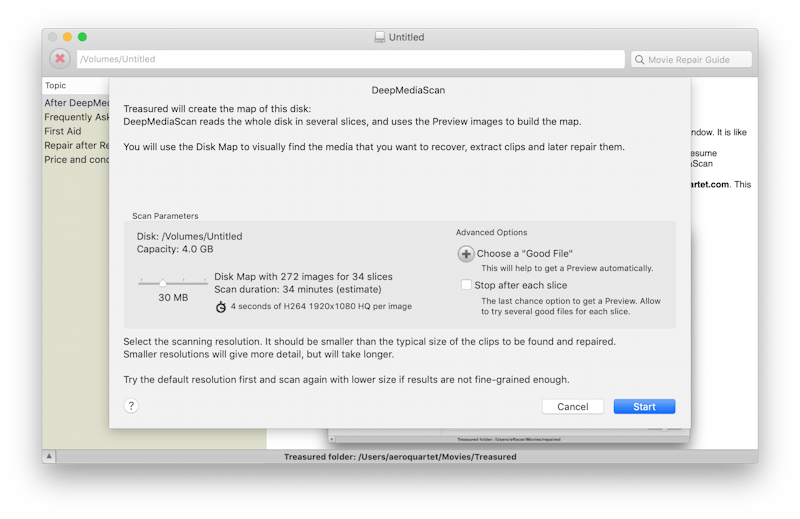 Scanning
During disk scan, the same process will repeat several times.
Read a new slice from the disk
Analyze the contents of the slice, determine type of media detected and show a preview
Aggregate this information to the map

And finally once all the slices are processed, the Disk Map will be displayed.
You can leave the computer unattended during the entire operation
You can stop the scan after a few slices if you have already found all the footage you need to recover. It is possible to complete scanning later if needed
In case of problem during scan — crash, shut down, card unmounting — you can resume the process from where it stopped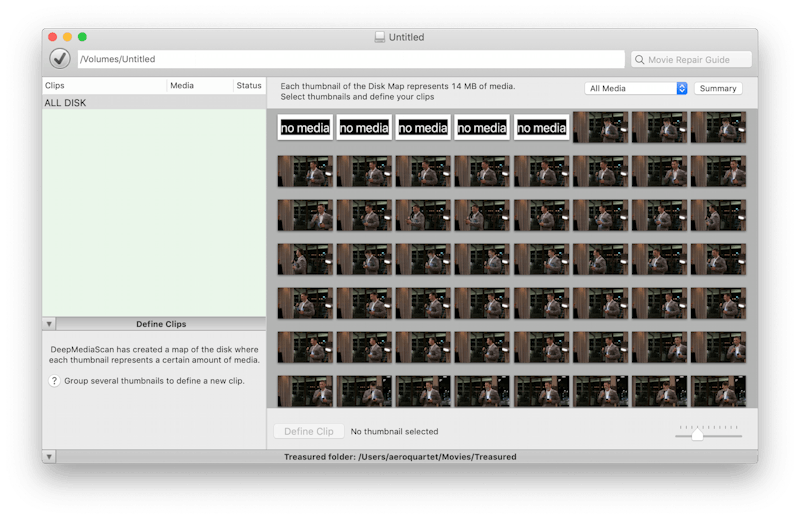 Some thumbnails can indicate "no media", this means that the corresponding region of the card does not contain video or audio.
Scanning on a PC
Assuming you have already created the card image — a mandatory step on a PC — follow these steps scan it.
Place your request with Treasured
Use your browser to open Treasured and use the card image as a regular damaged file to place your request.
Scanning
Shortly after receiving your request, the card image file will be split into several slices.
The scan process will automatically start, and your account will progressively display thumbnails of the footage, each thumbnail corresponding to a small region of the card.
Discovering the Disk Map, one slice at a time
Once all the slices are processed, the Disk Map shows all the footage present on the card!
You can leave the computer unattended during the entire operation. Just keep the tab of your browser open all the time. In case of problem during scan — browser was closed or computer shut down — you can resume the process from where it stopped visiting again your Treasured account.
Finally, select any of the thumbnails that contain a picture of your footage, to send us a sample of the video found.
Working with clips
You're now half way recovering the lost videos. So far, you have been able to locate them inside the card. Now it's time to extract them from it.
Defining clips
If everything went well, the Disk Map is now displayed in your DeepMediaScan window.
It is made of 8 thumbnails for each slice of data analyzed. If you have scanned a 15 GB card in 13 slices, you should have 104 thumbnails.
Each thumbnail represent a certain amount of data of the disk. In the example below, each image represents around 4 seconds of H264 1920x1080 HQ media.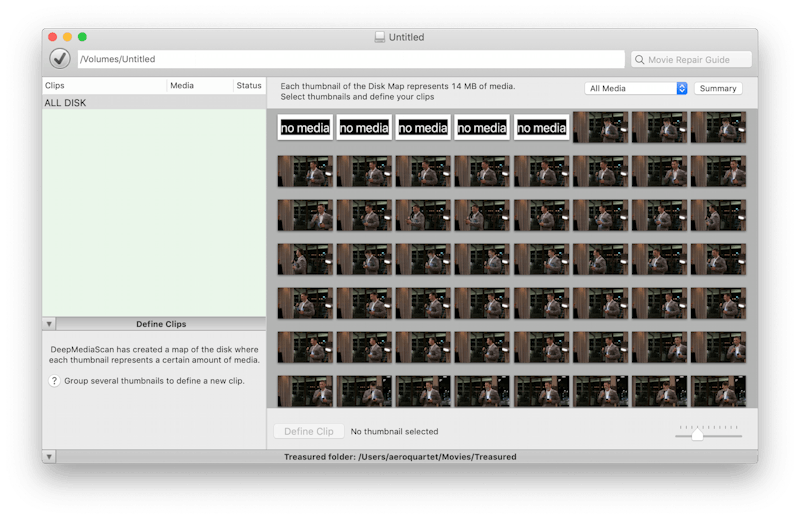 Remember: Thumbnails correspond to a fixed amount data, not to a clip or to a file.
If Treasured has been able to preview the media, the thumbnails represents the contents of the data. Otherwise, it only indicates the media type.
Some of the thumbnails will enable a Listen button allowing you to check also the audio linked to that thumbnail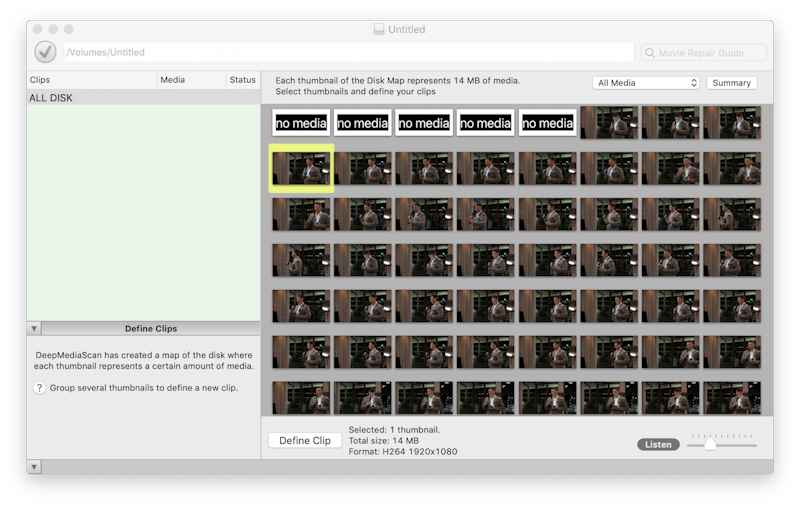 Your Disk Map is persistent: you can quit Treasured and come back later by double-clicking on the disk entry in the History pane, or selecting the disk in File > Open Recent
You can filter the thumbnails by media type
Your Disk Map corresponds to the first item of the Clips table, labelled either ALL DISK or PARTIAL SCAN OF DISK
Summary
From your Disk Map, a Summary button gives you access to some statistics about the content of the disk. Get back to the thumbnails view clicking the Back to Disk Map button
If scan was stopped before end of disk, there is a clickable option to continue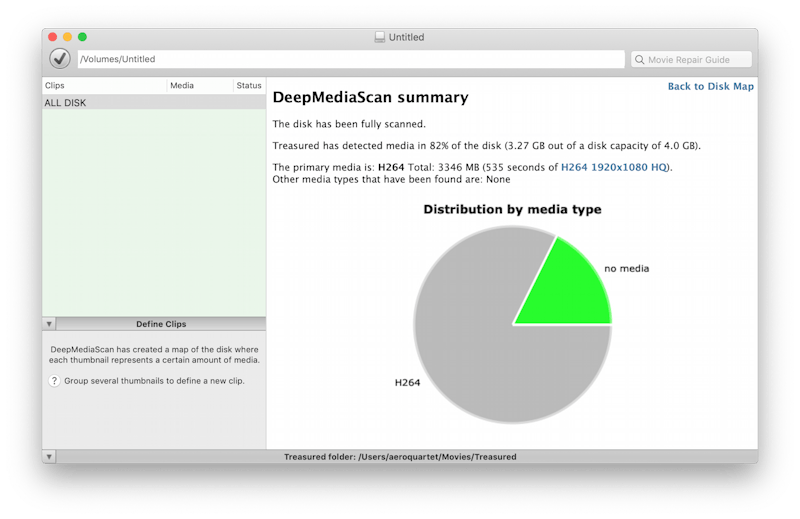 Define and extract clips
Your disk probably contains several video clips. Looking at the Disk Map, you can identify them. If you read the map you will see sequences of thumbnails pertaining to a clip, followed by more sequences.
The Disk Map allows to define the clips that you want to recover. This flexible approach is very useful when your have a huge hard disk but you only want to recover a part of it. Or when you don't have enough disk space to recover everything in one shot.
Select a sequence of thumbnails
Click on Define Clip button
A new clip is created and its extraction starts
Once extraction ends, the raw data of the clip is available. You can configure your repair, and later repair the clip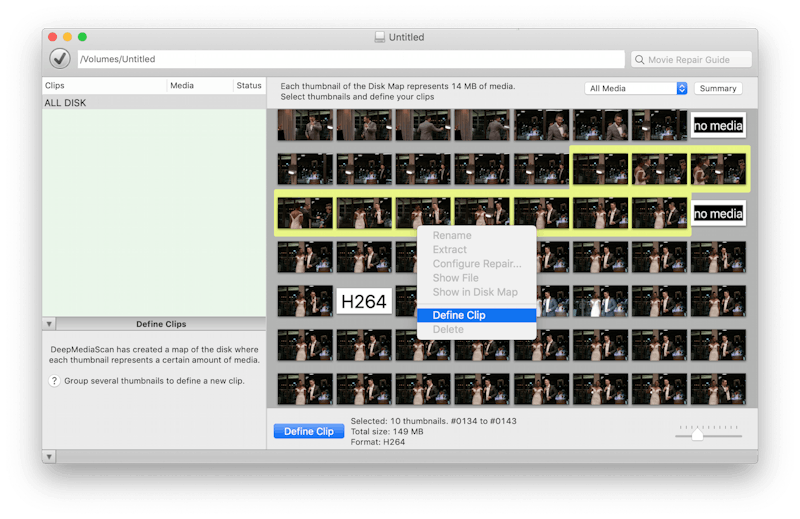 A clip can also be created by right-clicking on the selection in the map to display the contextual menu. You can...
Rename clips.The new name is also be used for the file created when the clip is extracted
Extract clips. The clip file is created in your repair folder
Configure Repair. Displays a form to provide your contact details and send the request
Show File. Opens a new Finder window showing raw data file
Delete clips. Deletes the clip from the table. Corresponding thumbnails become available again to participate in new clips
Summing up, the typical lifecycle of a clip is as follows.
Clip is first defined (at this stage, you have only "earmarked" a region of the card)
then extracted (it becomes a file in your repair folder and optionally renamed)
then a repair request is sent using Configure Repair button
and finally the clips is repaired (it becomes a playable movie) using a Repair Kit
Defining clips
Once you have selected a thumbnail that contains the video you're looking for, Treasured will send us a sample from the content discovered inside the card image.
Few moments later, a confirmation message will be displayed and we will start working on it.
Shortly after, your account will display the Disk Map, along with a new Job Tab, where the clips that you extract will be automatically organized to be repaired.
Use the brackets to define where the clip starts and ends. In the example above, we have selected all the thumbnails where the bride is on visible.
Rename the file if desired, and click Group to add it to the new Job where will be repaired.
Clip is now displayed in the Disk Map showing the thumbnails grouped under the filename provided, being by default untitled clip.
Repeat same grouping operation until all the thumbnails corresponding to footage you want to repair, are grouped into clips.
Click the new Job Tab to check the files extracted from the card image that will be repaired.
Frequently Asked Questions
These are some of the most commonly asked questions from our customers when needing to find lost videos on their cards.
I have a
0

kB file. What can I do?

A zero kB file can't be repaired as it contains no data at all. Therefore, to find the missing data, you need to get back to the card where clip was recorded.

If you didn't notice this issue until you finished your recording session, chances are that the media corresponding to the 0kb file has been overwritten by the next clip recorded.

On the other hand, if you stopped the recording and preserved the card, or if the 0 kB file corresponds to the last file recorded inside the card, you will be able to find the lost media by doing a DeepMediaScan.
My footage is not on the card. Is there still some hope?
There are mainly three reasons why the footage you're looking for, might not be displayed among the thumbnails of the Disk Map.
Your video was overwritten by next clips recorded onto the card.
Unfortunately there is no way to revert that overwriting operation and footage can't be restored.
Your videos were never recorded due a camera or card malfunction.
Data was not written to the card, that's why footage can't be found.
Format of your videos was not recognized and therefore no image displayed.
Your clips are there, but we might need a working sample from a different file to show you an image and repair them.
If DeepMediaScan doesn't find it, it doesn't exist. If DeepMediaScan finds it, we can repair it.
Mixed Scenes in the repaired clips. Can it be improved?
Presence of different streams in a repaired clip after DeepMediaScan is due the fragmentation of the source data, inside the card.
The more you use the card, the more fragmentation will appear. Fragmentation is caused by the way data is written and organized inside the card. If after a shooting day, you don't offload and delete all the takes, the next day the shots that you record will be fragmented. And more so if when the card becomes full.
To avoid this when retrieving data from the card, you can set up the slice size to its minimum value in order to see more thumbnails. With a finer "grain size", it is easier to define the clips accurately.